Carolanna Parlato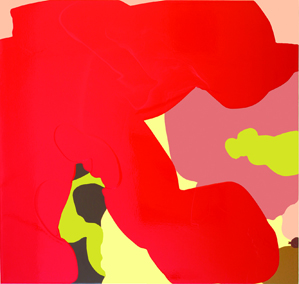 THEN / NOW In Carolanna Parlato's organic works, oozing paint flows interact with biomorphic blips and blobs, creating a dynamic fusion of high-keyed color and subtle surface modulations. Mirroring the tension between the synthetic plasticity of popular culture and a natural, elemental biology, the paintings establish their own particular beauty, filtering gesture through the saturated colors of cartoons. Central to these paintings is the somewhat paradoxical relationship between the quasi-chance process of pouring and the rigor of the control that Parlato exercises over that procedure, a relationship that leaves the works suspended between the indeterminate and the intentional.
Ken Johnson wrote in the New York Timesthat Parlato's "intensely colored pours contribute to an experience of immediate visual gratification. "The paintings included in this exhibition developed out of the Perfume River series, which for Parlato conveys a feeling about the nexus of desire and danger, of seductive beauty and resistant artifice. Barry Schwabsky wrote of this work in a catalog essay for a 2000 exhibition at Cheryl Pelavin Fine Art, the paintings act as "a stream that, as it flows, exudes a subtly yet insistently fragrance so seductive that it draws passersby to it inexorably."
After receiving an MFA from the San Francisco Art Institute, Parlato has exhibited widely in critically well-received one-person and group exhibitions. Last year her work was included in Open House: Working in Brooklyn at the Brooklyn Museum of Art. Carolanna Parlato's paintings are represented in many private and public collections, including the Brooklyn Museum, Islip Art Museum, Reader's Digest, and Pfizer Inc.